Asset Publisher
Asset Publisher
Ścieżka "Od Sasa do lasa"
Ścieżka "Od Sasa do lasa" łączy treści historyczne, przyrodnicze i leśne.
Rozpoczyna się na dziedzińcu pałacu Brühlów w Brodach, gdzie przedstawiana jest historia rodu i samych Brodów, dalej przebiega przez zabytkowy park przypałacowy z egzotycznymi drzewami (cypryśnik błotny, tulipanowiec i inne) i starymi alejami lipowymi prowadzi wzdłuż południowego brzegu Jeziora Brodzkiego na leśną ścieżkę "Na Wąwozach".

Panorama pałacu w Brodach, fot. Paweł Mrowiński
Przyrodniczo-historyczna ścieżka "Od Sasa do lasa" kończy bieg w Ośrodku Edukacji Przyrodniczo-Leśnej w Jeziorach Wysokich, gdzie można poznać ciekawe gatunki drzew i krzewów w ogrodzie dendrologicznym ośrodka, w tym przede wszystkim różne gatunki sosen, oraz wspiąć się na leśną wieżę obserwacyjno-widokową i podziwiać krajobraz okolicy.
Trasę dobrze jest przemierzać z przewodnikiem, ponieważ nie jest oznakowana. Szacowany czas przejścia całej ścieżki (łącznie ze zwiedzaniem) to ok. 3 godz.
Pomysłodawcą nazwy, przebiegu ścieżki i autorem treści jest szef OEPL w Jeziorach Wysokich Paweł Mrowiński.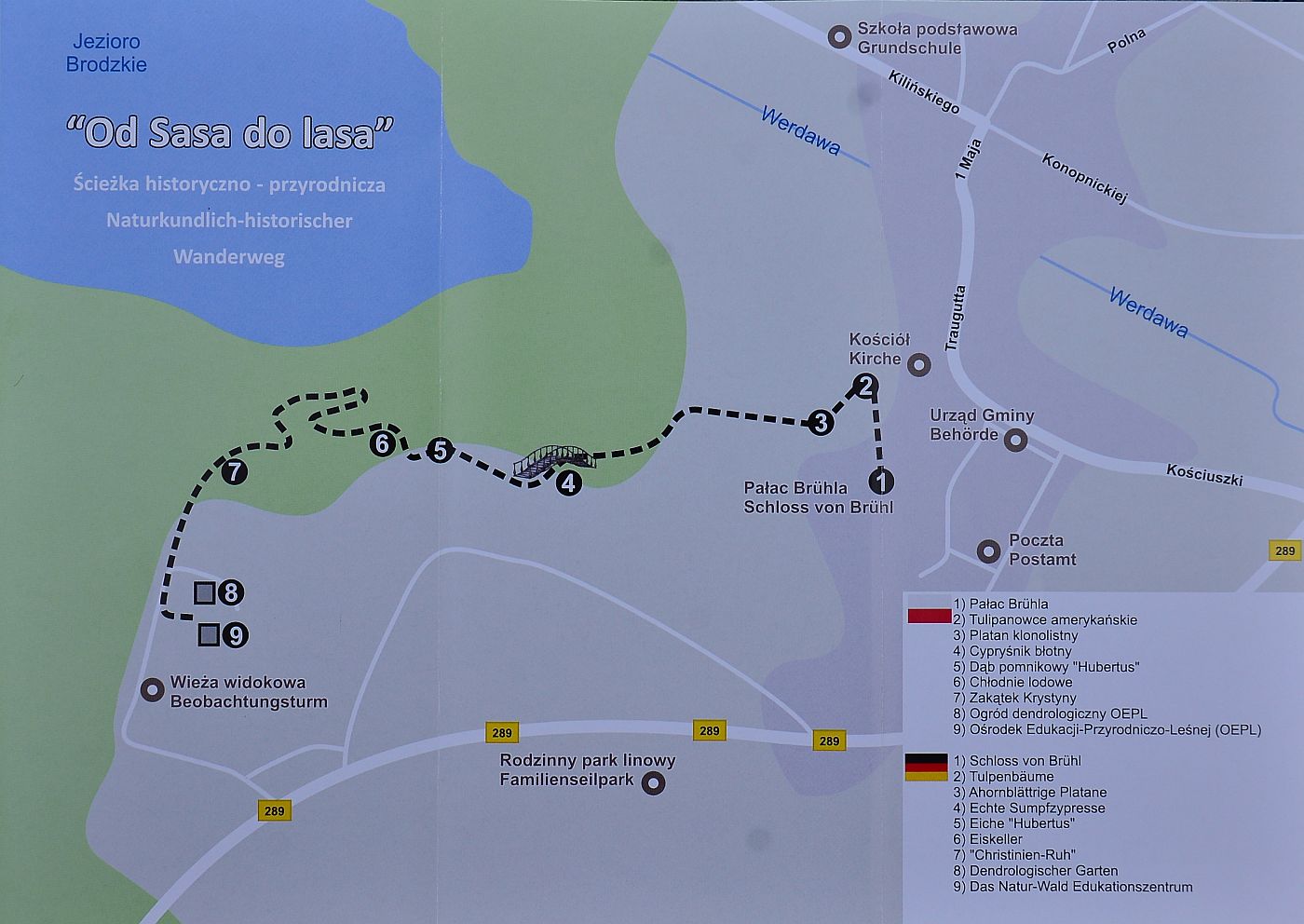 W ośrodku można otrzymać darmową ulotkę z przebiegiem trasy wydaną w ramach seminarium polsko-niemieckiego "Brody duchem historii regionu". Było to zadanie dofinansowane ze środków Lubuskiego Wojewódzkiego Konserwatora Zabytków.
Zobacz także informacje o trasie "Od Sasa do lasa" na portalu Lasów Państwowych "Czas w las": Widok obiektu (czaswlas.pl)
Asset Publisher
Asset Publisher
Asset Publisher
Asset Publisher