Asset Publisher
Asset Publisher
NATURAL MONUMENTS
Natural monuments are single formations of living (animate) and non-living (inanimate) nature or their clumping with their special environmental, scientific, cultural, historic or landscape value and characterizing with individual features distinguishing them among other creatures, f.ex. monumental trees.
Within the area of the Forest District Lubsko, there 16 natural monuments : 7 trees, 3 tree species and 6 natural monuments of surface protection. It is worth paying attention to the significant share of natural monuments of surface protection, which function concerns protection of small areas, that are valuable due to natural features.
Natural monuments of surface protectioncover springs, Moses and precious fragments of pine forests with their protection, where rare plant and animal species occur.
One of the most precious natural monuments of surface protection is "Bór Suchy"(Dry Coniferous Forest) with its area of 1,61 ha (section 292). This old beautiful old forest renews naturally. This is the one of the oldest pine forest stands at the age of almost 200 years.
Extremely interesting is the natural monument of surface protection "Kandelabry" (Candelabrums) with its area 3,37 ha ( section 358). There grow "dancing" pines, curved in really amazing way. It is probable, the trees were shaped that way by German foresters in order to get natural material for bentwood furniture. The pines are 85 years old.
The pine "Ośmiornica "(Octopus) growing by the road Tuplice –Btody (section 61) deserves attention from among single monumental trees. Its name the tree owes very unusual as for this species shape. What is interesting is the fact, that from one trunk, there grow out even eight fancy bent boughs. "Octopus" grows in the surrounding of other fine-looking pines in beautiful and rich forest.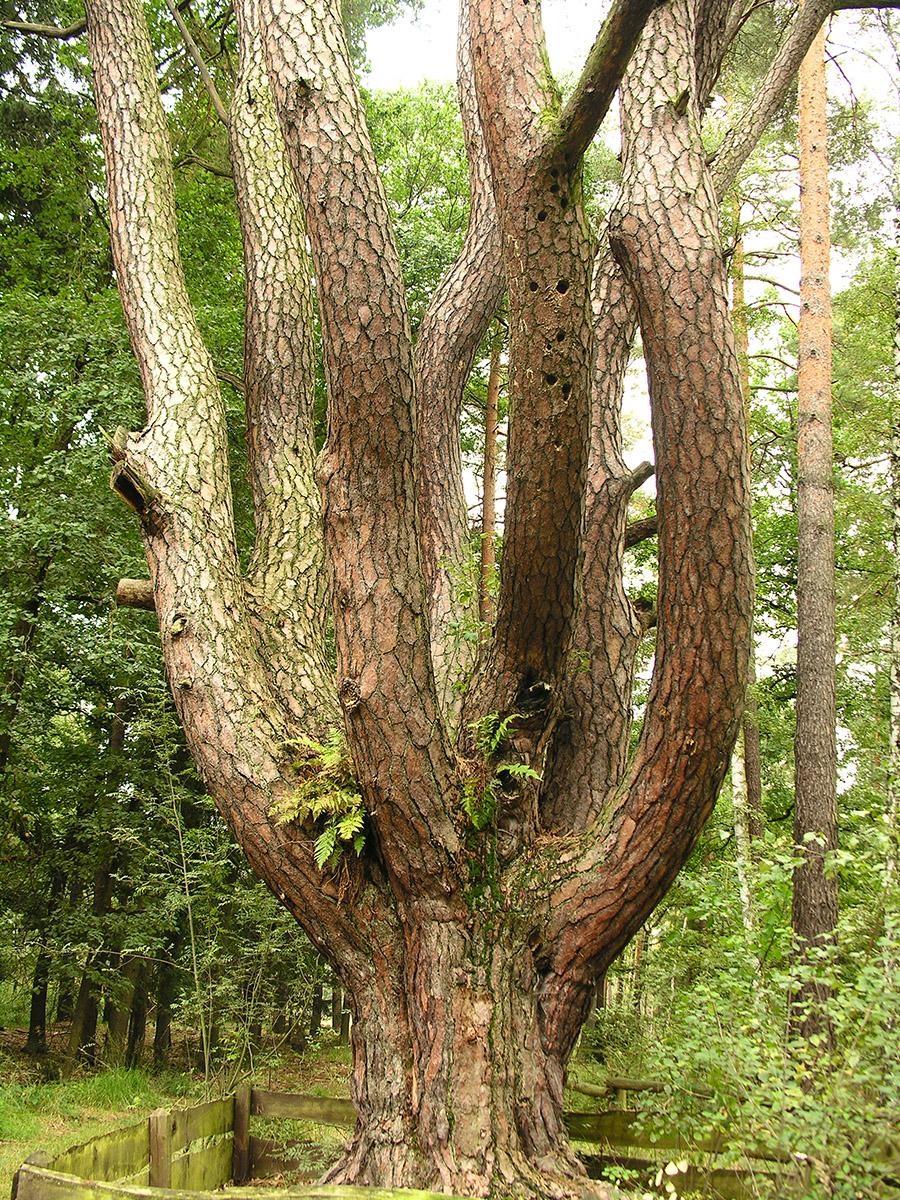 Natural monument "Ośmiornica". Fot. Paweł Mrowiński
Asset Publisher
Asset Publisher
Asset Publisher
Asset Publisher